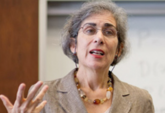 "Should tenure protect racists?
"Amy Wax is an expert on social-welfare policy and racial provocation. The University of Pennsylvania law professor reportedly said at a recent conference that America "will be better off with more whites and fewer nonwhites."
"A petition calling for her to be fired from Penn has attracted more than 50,000 signatures. The university has barred her from teaching mandatory first-year courses. She presents a difficult test of academic freedom and its limitations, right? Not really, argues Musa al-Gharbi, in The Chronicle Review. To explain why, he points to the past. The movement to establish and strengthen tenure was a response, at least in part, to the firing of a eugenics-spouting, xenophobic Stanford professor in 1900. Many of those troubled by the firing personally rejected — and even publicly repudiated — such views. Understanding why professors nonetheless rallied in support of academic freedom, says al-Gharbi, should inform how we think about the Wax controversy today." Read more here. Subscription required for off-campus reading. See also this IHE post.